Compliance is an annoyance and a sore point for retailers any way one looks at it. They cannot get rid of it or ignore it. The fact is, their businesses depend on it. If retailers can't show proof that they are doing everything required to safeguard their customers' data, the issuing or acquiring banks will not allow a business to accept credit or debit cards. If merchants don't have the service of accepting cards, then they literally will be run out-of-business.
How does one stay on top of these compliance mandates? Get started now.
Given that the Payment Card Industry Data Security Standards (PCI DSS) and compliance with portions of Personal Identifiable Information (PII) are crucial pieces for the existence of any business, we are at a point in time when everyone understands the importance of keeping track of compliance. There are approximately 411+ requirements that need to be addressed on a regular basis. It's just that no retailer is confident that they have paid attention to all the little details all the time. The IT group is usually busy with the technical fixes, while the executives are busy running the business to stay profitable.
The answer is Omega's Compliance Dashboard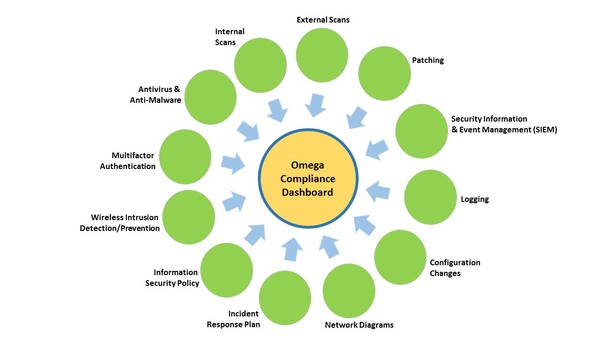 Omega's compliance dashboard is a smart, self-service visual display
It is a web-based console where users can login directly to check their enterprise's compliance status
It empowers a user by cutting down the time needed to check several sources to get their compliance information
Results are displayed based on the criteria selected
Results can also be shown as charts and graphs if a pictorial display is preferred
And more…
The dashboard provides a huge edge when audits are conducted every year by Qualified Security Assessors, (QSA) cutting back time, effort, and reducing the retailer's expenses in a noticeable way.
Cutting back expenses? How?

Retailers have to be compliant with all controls regardless of their merchant level. The compliance dashboard keeps you ahead of the curve because Omega will address issues in your store and card data environment (CDE) on a continuous basis. Omega will also guide retailers to remediate gaps that they are responsible for.
Level 1 and Level 2 merchants who require QSA audits for their Report on Compliance (ROC) certification spend exhorbitant amounts every year on,
Gap analysis
Remediation of the gaps
QSA audits
The savings occur when issues are addressed as they come up instead of waiting to hire a third party right before an audit for the analysis, followed by remediation, and finally a QSA for a five to seven month long audit. The compliance dashboard will cut expenses in all areas.
Reach out to Omega to learn more about the compliance dashboard and save money.